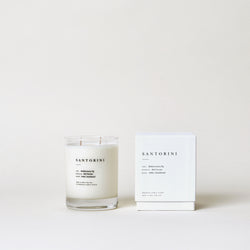 Santorini Escapist Candle
Product Specs:
ø3 3/8" x 4 1/4" / 13 oz
100% soy wax, vegan
Reminiscent of the earthy fruity aromas of Santorini's abundant fig trees and lush native currants..." - Brooklyn Candle Studio
A sensory journey to the Mediterranean. This candle is part of Brooklyn Candle Studio's "Escapist" collection. Their goal? To share their favorite places in the world through our sense of smell, giving a whole new definition to wanderlust.
Made in Brooklyn

70 hours burn time

Always trim wicks to 1/4 inch before lighting
Never leave a burning candle unattended
Place burning candles at least three inches apart from one another
 Read the brand story of Brooklyn Candle Studio here.